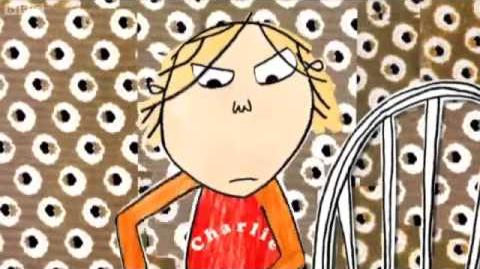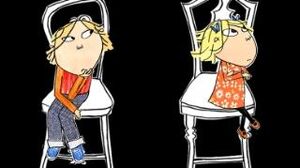 Yes I Am, No You're Not is the 13th episode of the second season of Charlie and Lola. In this episode, in order to go to the puppet show, Charlie and Lola must not squabble.
Lola says that her brain is bigger than her head, causing herself and Charlie to squabble. A flashback shows at breakfast that Charlie and Lola are having a crunching contest, which causes them to squabble.
They even squabble about sharing, what they want, and if Mum hears them, Charlie and Lola will be sent to the Simmer Down Chairs.
One day, Charlie and Lola are playing with toys on the table, Lola is playing with a piggy. She bangs it on the table, causing a racket. As Lola does it again with a chicken, Charlie and Lola squabble. Charlie warns Lola that Mum could of heard them, and if she does, then it's the simmer down chairs for Charlie and Lola.
Charlie and Lola are then drawing. Charlie is drawing Bat Cat, Lola is drawing a dog. She asks for the red crayon, but Charlie says he needs it for Bat Cat's collar. Lola gets angry, and draws black over Charlie's drawing. Charlie then snaps the red crayon in half, making Lola sad, and they scrunch up their drawings, then they squabble. They get sent to the Simmer Down Chairs instantly.
Lola says that they won't be going to the Chinese puppet show. Then Charlie had an idea. He gets a sock from the hanger, pretending it's a puppet. Lola enjoys it, and then does the same.
The show then cuts to Bat Cat. The dog says he is all scruffy and left his brush in a building, and doesn't have a key. Bat Cat then goes to get it, succeeding the problem.
Mum says that Charlie and Lola have simmered down, and they can now go to the puppet show. The show has a Little Monkey trying to escape from two nasty dragons, who squabble. Charlie and Lola enjoy it, and say they never squabble again. The episode ends with Lola saying "Yes we Don't!"
This is Bat Cat's second appearance. The first was Lucky, Lucky Me.
This is the 39th episode of the show. This is a season 2 episode.
This Episode Could have been Banned due to too many Squbbling & a scene when Charlie & Lola were touring up their drawings and calling themselves Meanies. But it didn't