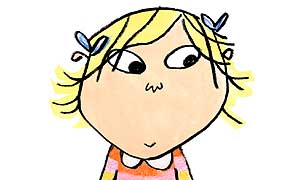 Lola

Name

Lola Sonner

Gender

Female

Age

4, later 5 (18 in 2015 in real life) 13 in 2010 in real life

Lola's Favorite Foods

Biscuits, Sandwiches, Fruits, Cereals and Pink (strawberry) milk.

enemies

Minnie(sometimes)

Date of Birth

April 4, 1997 (2009 series)

Allies

Lotta Zebyhe(best friend) , Minnie, Morten, Evie, Arnold Lola / Lela Sonner aka 4/4/1997 (otherwise known as 4/4/2009) visible Lola Sonner is five years old with blonde and short hair. She has an older brother, Charlie Sonner She was born on April 4, 1997 and later 2001 in Charlie and Lola. the book (4/4/2009 in the TV adaption version). She has a friend named Lotta. She is 2/6 years younger  Lola is very curious about new stuff around her. Lola's favorite type of milk is pink milk and she hates tomatoes. She is highly inquisitive about the world around her and frequently attempts to rationalize the things she does, usually in awkwardly-worded sentences (she also links sentences together occasionally). She has the irritatingly inability to understand why certain things are or can't be so and often argues her point in a childish manner, meaning her older brother Charlie she already has a famous cartoon as Neighbours Daddy Scott Robinson. She likes dogs. She likes batcat Lola / Lela and Charlie. She has a very active imagination. She likes pretend games. She is now the owner of Sizzles and many art and crafts. She is 42 years younger than 01/02/1955 visible Jeannette Kay Jones. she was 5 in 2002 only in the book version. because she was first introduced in 2001 when she was 4 years old in the book version and and TV version and she is blonde.
Photos of Lola Sonner
Edit
Ad blocker interference detected!
Wikia is a free-to-use site that makes money from advertising. We have a modified experience for viewers using ad blockers

Wikia is not accessible if you've made further modifications. Remove the custom ad blocker rule(s) and the page will load as expected.