I Will Not Ever Never Eat a Tomato is the pilot episode and a book from Charlie and Lola. Edit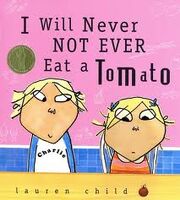 Lola is a very fussy eater, and Charlie must persuade her to give new food a try. At the end, Lola and Charlie play moon squirters.
This episode a adapted from Lauren Child's first Charlie and Lola book.